Wyckoff's Workshop
Veteran owned and operated right here in the U.S. Individually designed and customized for any agency and any shield. Available in three sizes. Customizable with shield numbers and names. The perfect gift for your first responder.
***Please note that the production times are not a definite time frame as it could be later than the average completion time of 8-12 weeks due to many reasons such as priority orders, number of orders, supply cap of materials and holiday demands***
How It Works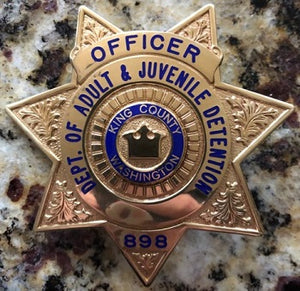 Step 1: Submit Image
After you have selected your size, stain, and customizations you will be asked to submit an image of the badge or sheild.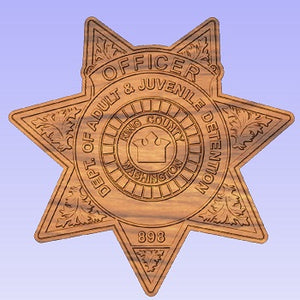 Step 2: Approve Design
Your image will be processed and a design created that will be used to make your final project. You will be asked to approve the design before we begin.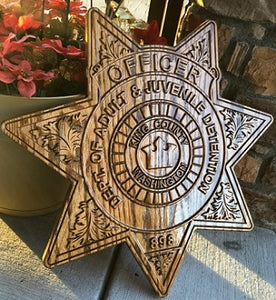 Step 3: Final Product
Our team will process your order as soon as possible. The current lead time after approval is 8-12 weeks. ***Rush Delivery Available***
What Our Loyal Customers Are Saying
OMG! Brandon does AMAZING work! He's extra communicative to ensure you get exactly what you want, the work is fantastic and shipping is fast! He's my go-to for anything plaque related. He can do just about anything and he lets you know if it's going to look good or janky and he'll come up with options to ensure you're satisfied. I can't recommend him enough!

Kathy Knisley
This is an awesome business with the owner providing excellent customer service. He was easy to contact and he answered all of my questions. I just received a picture of the final product which is a copy of my husband's Police Badge with his name and badge number. Beautiful work! So much talent! This is going to be a Christmas gift from me and our 2 kiddos. I can't wait to give it to him!

Jodi Pence Lough
Beautiful work and painting done on a custom piece for a gift! Highly recommend.

Sharlene Monica Pearl
I have ordered three different pieces and every single one has come out absolutely perfect! It's the best way to celebrate any kind of achievement for a coworker, friend or even family members.

Randy Pruitt
Just want to thank Brandon on the wonderful job he done. The plague is beautiful !! I love it and so does everyone that sees it your work is phenomenal 100% thank u very much !!

Patti Bogl
My husband really liked this replica badge. He couldn't believe how awesome the detail is in it. This was a wonderful gift for his retirement with 30 years of service to the Ohio State Patrol. Thank you!

Lori Walker
I asked Brandon from Wyckoff's Workshop if he could do something I had in mind for my guy and he went above and beyond!! Always checking in to make sure it was exactly what I wanted, & even made some suggestions because it's a board that we would use often!! My veteran LOVED it and it was such a wonderful surprise for him today! Thank you Brandon!!

Valeria Sullivan
Brandon did an amazing job with a quick turn around. Very professional and high quality work! Thanks Brandon, another order is coming your way!

Mark Gunderman
Great quality at a very fair price. I just took delivery of a very special badge that I had made for the wife of game warden that was killed in the line of duty. Brandon was very accommodating and got the badge done in short order. It looks better than I could have imagined. If you're in need of a badge, patch, or other unit insignia recreated in wood, definitely give Brandon a shot. Totally satisfied!

Joey Brown
Our story
About Wyckoff's Workshop
Brandon Wyckoff is the owner/operator of Wyckoff's Workshop and a Veteran who served with the United States Air Force for nearly 10 years before medically retiring out.  Brandon and Scott (Retired Army Sgt) started this workshop as a hobby when they were active duty and since then turned it into a full time business.
Over a six year period Brandon and Scott's work has caught the attention of many. Their attention to detail and passion is demonstrated in each of their custom pieces. Brandon and Scott strive to ensure a first time customer becomes a returning customer.
Each piece is created right here in the U.S. in the beautiful state of Colorado!
Below Picture is (RET.) USAF TSgt Brandon Wyckoff right and USA (RET.) SGT Scott Morehead left